Getting fit while enjoying the process is easier said than done. Some days, you'll feel 'meh!' all the time with all the heavy workouts and eating your least favorite food for the sake of #BodyGoals.
Now that Luxe Slim offers another flavored drink, you can enjoy your sweet and chocolate cravings without feeling guilty.
We're pretty sure you're tired and bored of your usual drinks. Why not spice it up with your Luxe Slim Dark Choco drink in ways you can enjoy in the comforts of your home?
Serve It Hot
While we're on a hassle-free drink prep, you can always have your Luxe Slim Dark Choco while it's hot, best served in the morning!
You can enjoy it with your favorite wheat bread when you're on a calorie count control or just regular bread and butter to make you feel good in the morning.
Hot drinks are also perfect for the cold holiday season, so this is the best time to treat yourselves to healthy beverages!
Iced Choco
Whether you're in a rush or simply having your siesta time, have a glass of ice and a single sachet of Luxe Slim Dark Choco, and you're good to go!
Healthline says drinking cold or iced beverages can help keep one's body from overheating (especially since we're in a tropical country) and can also help in every workout session!
Choco Popsicles
Who said only adults could indulge in healthy drinks? Well, youngsters can too!
A healthy routine has no gender or age. As early as teens, they can take the initiative to become the best version of themselves.
However, it could be hard for them to commit to their diet consistently, but don't worry, they can always have yummy and healthy chocolate popsicles!
Just prepare a mixture of the Luxe Slim Dark Choco dissolved in warm water. Pour it into a popsicle-molding container and let it freeze overnight!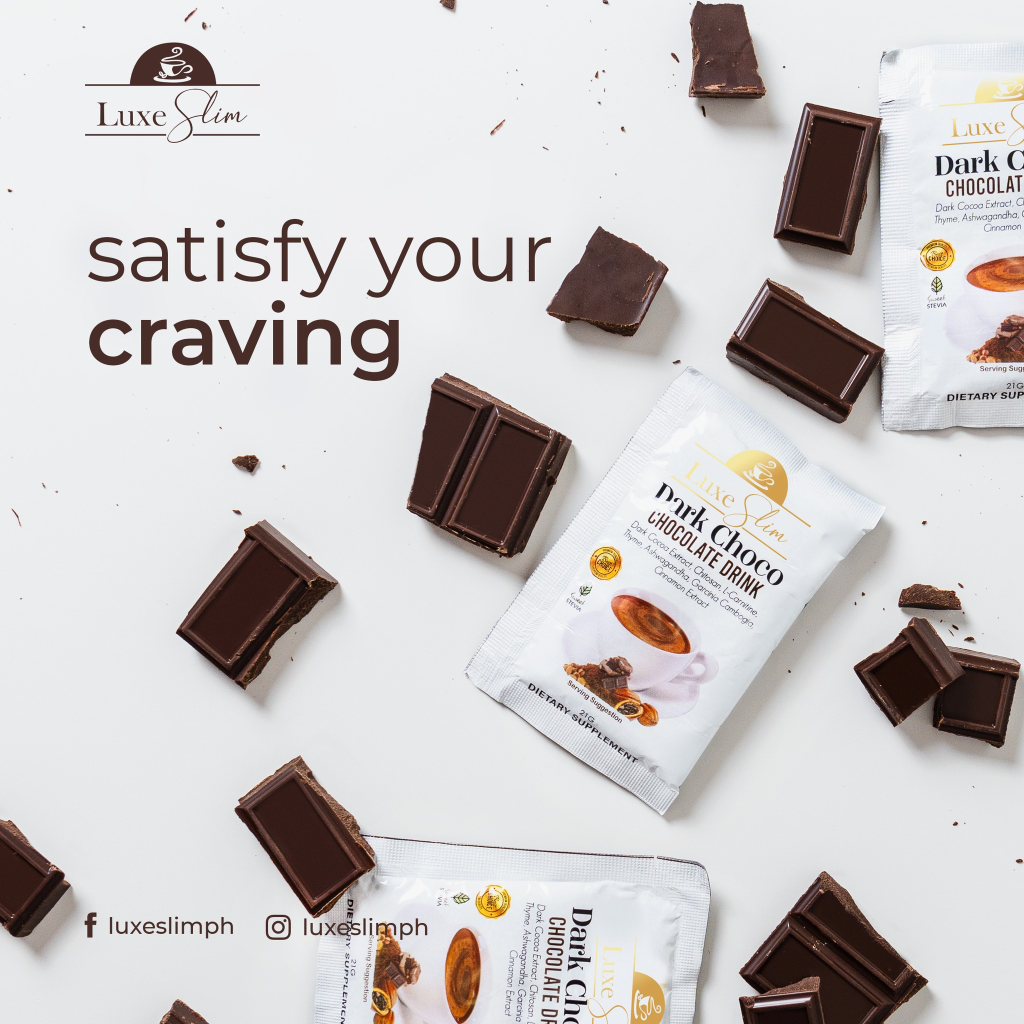 Chocolate Smoothie
Craving for your go-to frappe beverages from your favorite coffee shop?
We all know how costly that can be, not to mention the long lines since it is already "sticker reward season" (if you know, you'll know!).
Why not have your homemade chocolate smoothie in the comforts of your home? Enjoy your dark chocolate smoothie without the lines, and of course, without breaking the bank!
To prepare, combine a glass of milk and a single sachet of Luxe Slim Dark Choco and blend it for 3 minutes to achieve a smoothie texture.
Influencers Approved!
Your favorite vloggers and social media influencers first tested the Luxe Slim Dark Choco drink, and here's why it is a certified "influencers-approved" product.
YouTube vlogger and entrepreneur Viy Cortez first explored the wonders of this guilt-free drink and swore by its true-to-life claims!
"Kung gusto n'yo makapagbawas ng timbang, ito ang pinaka-perfect na product [para] sa inyo. At talaga namang mawawalan kayo ng ganang kumain dito, Diyos ko dai!" Viy Cortez shared in her vlog.
Meanwhile, vlogger and TikTok sensation Jai Asuncion also shared her first impressions and the instant effect of Luxe Slim Dark Choco on her first try.
Like any other gals, Jai Asuncion enjoyed her chocolate drink iced and frothed to have the cappuccino-like finish.
"Mhmm! Oh my gosh, sobrang sarap! Para sa mga hindi nakaka-alam, bukod sa kape, mahilig din po ako sa mga chocolate drinks." Jai said in a TikTok reel.
Get Yours Now!
For only PhP395, you can now get your hands on the Luxe Slim's newest flavor. Get a chance to experience why it deserves to be a part of your healthy routine.
Grab yours now on Luxe Slim's official website, Shopee, and Tik ok shop accounts. For orders outside the metro, you can contact the nearest authorized dealers within your area!