After a 2-year hiatus, the Rakrakan Festival is set to conclude its final leg on November 25-26, 2023, after ten years of bringing peace, love, and music to the music festival scene.
Planning to join the fun? Here's what you should look forward to on the final leg of the biggest music festival of all time!
Rakrakan Festival
Rakrakan Festival, co-presented by Red Horse Pambansang Muziklaban and Hotel Sogo, is a two-day music festival featuring the biggest names in the local music industry this November 25-26, 2023 at the SMDC Festival Grounds in Parañaque.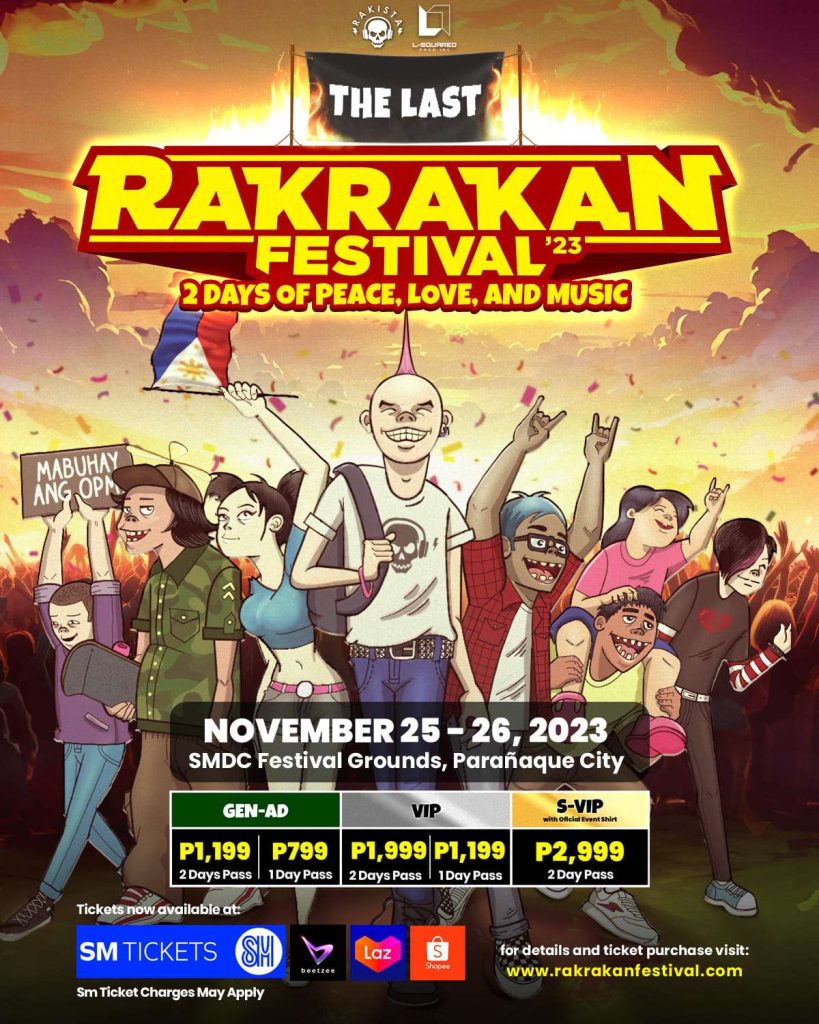 The highly-anticipated music fest of all time started in 2013, and in its tenth year, the Rakrakan Festival is set to conclude the show with a blast this 2023.
During an exclusive press conference on November 13, Rakrakan Festival organizers revealed that their team prepared a lot of surprises, including different stages, exciting lineups, and interactive activities for the said music festival.
Present during the said intimate media conference was Atty. Carlo Ybañez (Legal Counsel), Mary Lei Bautista (Business Development and Marketing), Benjie Estanislao (Creative Director), and Tess Escuadro (Marketing Associate).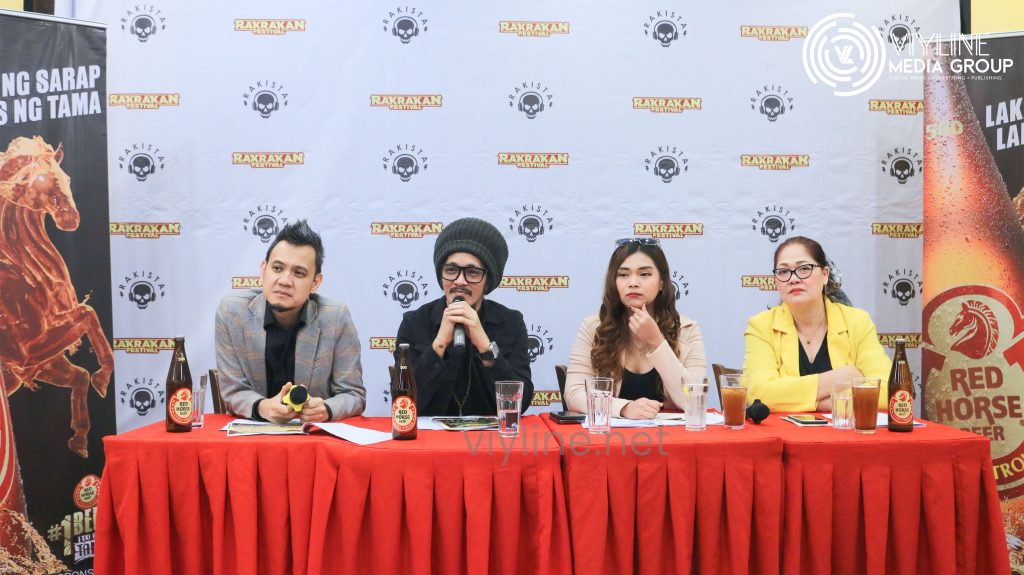 Aside from the concert, the Rakrakan Festival ensures that one of its edges is the interactive activities that will make the event a moment to remember. Such activities include the following:
Cosplay Competition
Sunugan Rap Battle
Multiple Stages
Skate
Wrestling
Bumper to Bumper Car Show
Busking
Merch and Food Bazaar
6 Performance Stages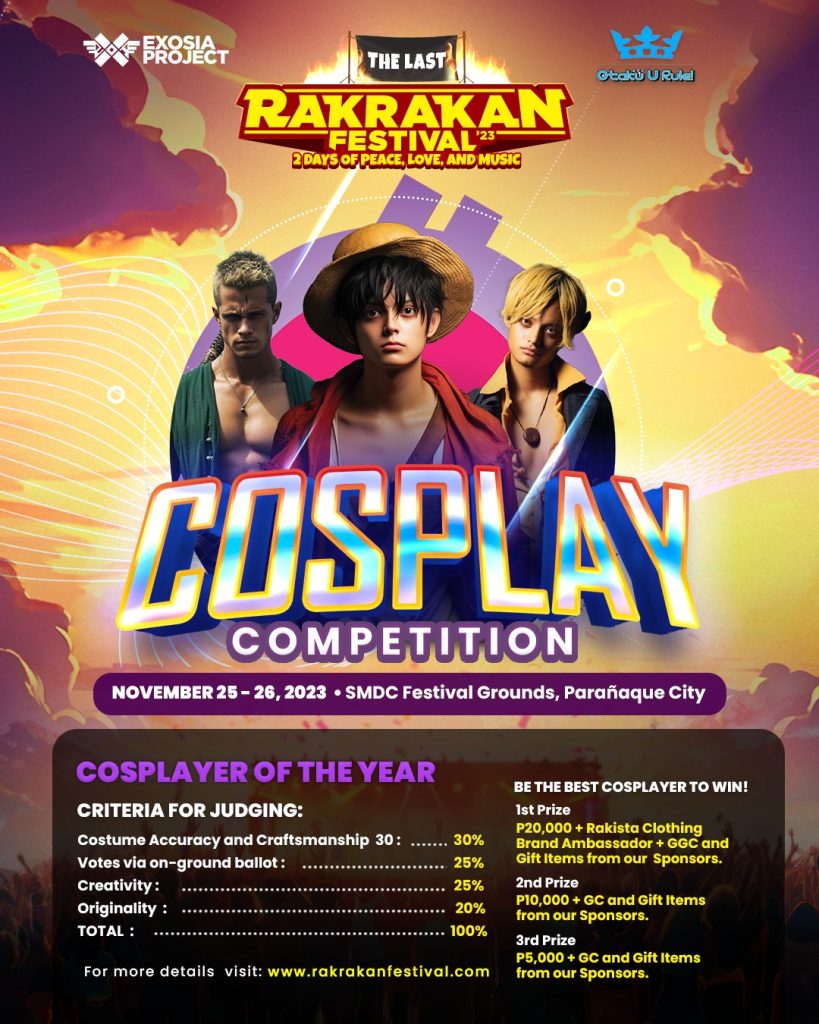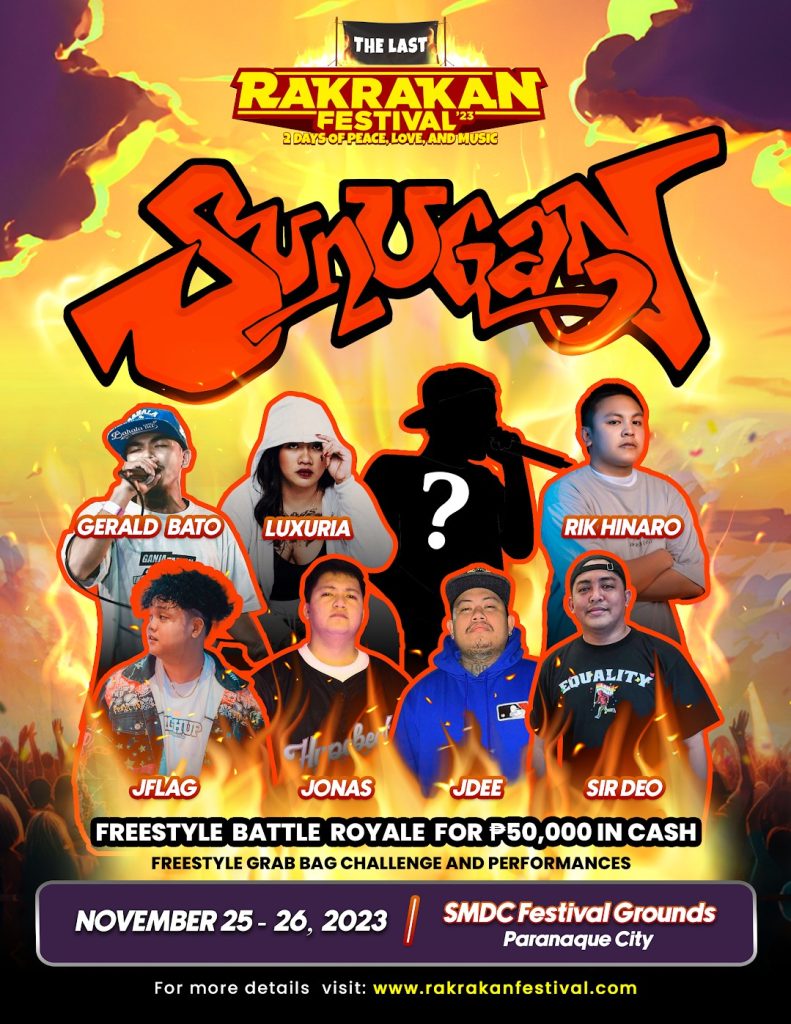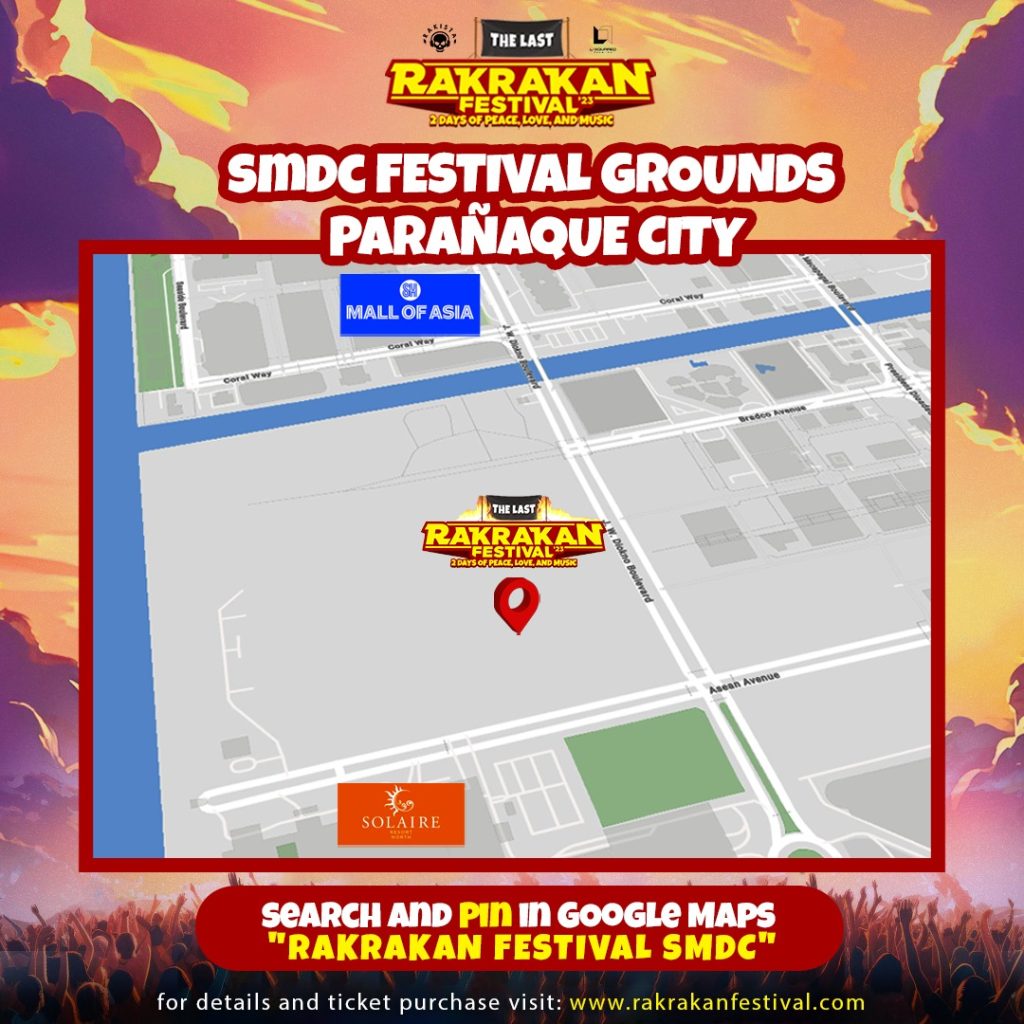 On another note, Estanislao, the event's creative director, disclosed the reason for the decision to conclude the Rakrakan Festival.
"It's actually the other way around. The last Rakrakan [festival] in 2023 is a closing chapter of whatever has happened in the past. Just like a cocoon, it will always be a butterfly. So, we will see!" Estanislao shared.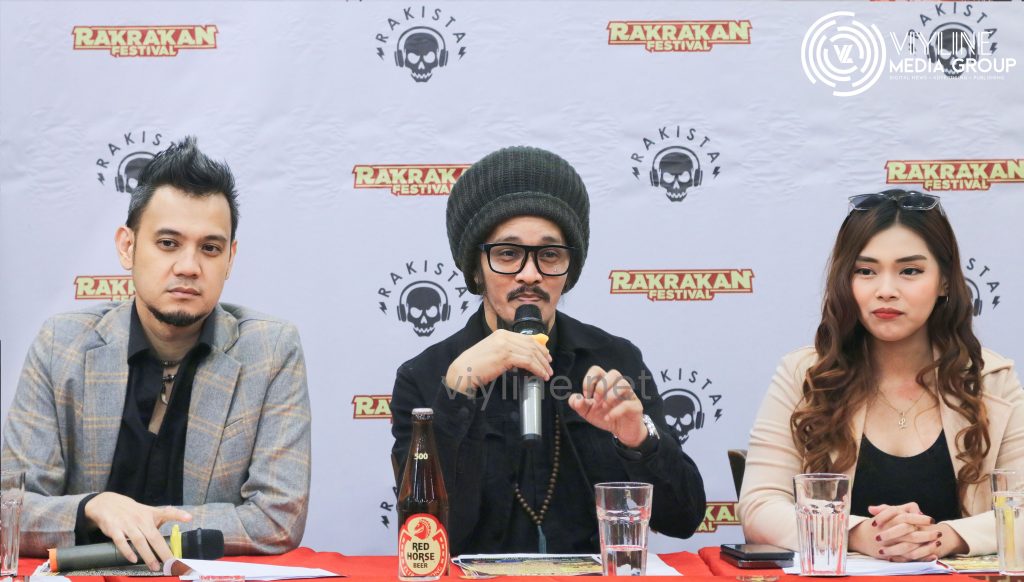 The Rakrakan Festival team also ensures that this will leave a mark not just in the attendees' hearts but also its legacy in the Filipino music scene.
"From all the challenges we faced [before the event], for this time around, rest assured [that] we are very prepared from the manpower, security, and of course sa buong team, sa program, sa artist," Lei Bautista of Rakista Radio shared.
Pumunta kayo sa November 25 and 26 to watch and learn how big we prepared for this," she added.
This year, attendees should expect nothing but the biggest and most iconic names, such as Ely Buendia and Rico Blanco.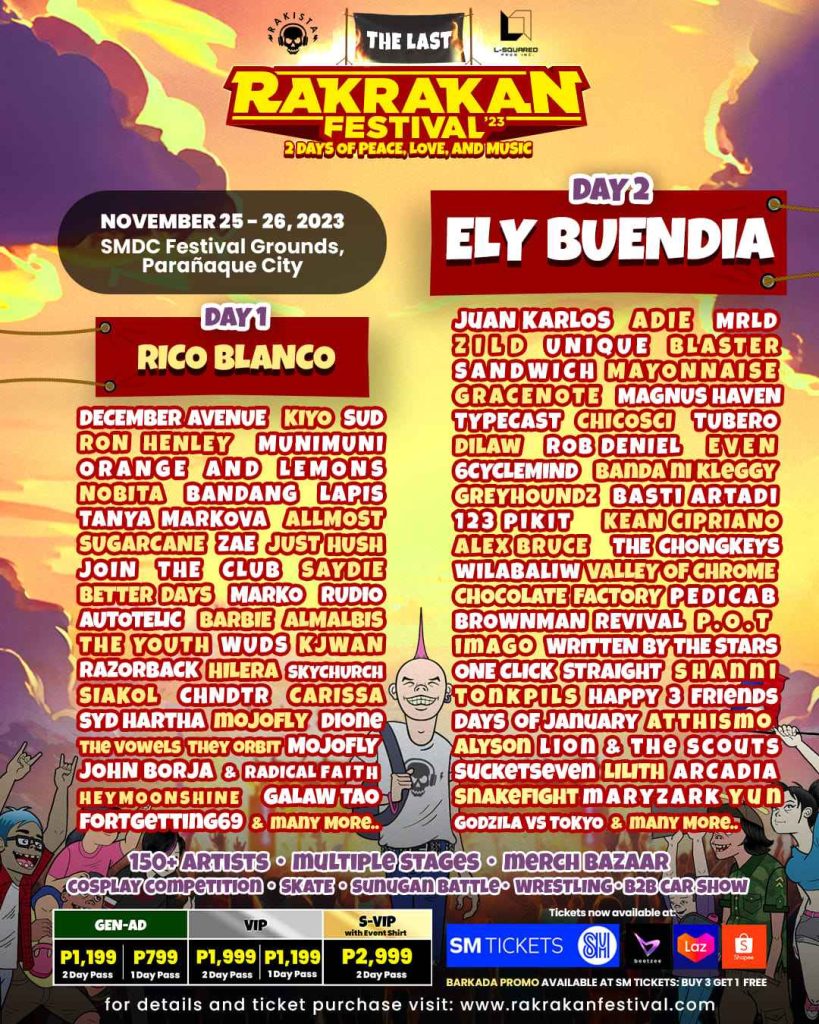 Again, Estanislao shared the grounds for choosing the best artists that will surely make the last leg of the Rakrakan Festival a bang.
"Actually, [that's a] good question. Syempre, kung sino 'yung nakita naming active. Our headliners like Rico Blanco, Ely Buendia, they [are chosen] not just because of numbers, but because they have more reach."
Atty. Ybañez also added: "One of the reasons [is] if you look at the format of our stages, it's not just about the music, it's also about the image [of the artists]."
"Rakrakan Festival is not [just] all about rock music, but definitely about OPM music itself. We support OPM. We're not just looking for the number of followers, but our number one priority is, of course, the underground scene," says Lei Bautista.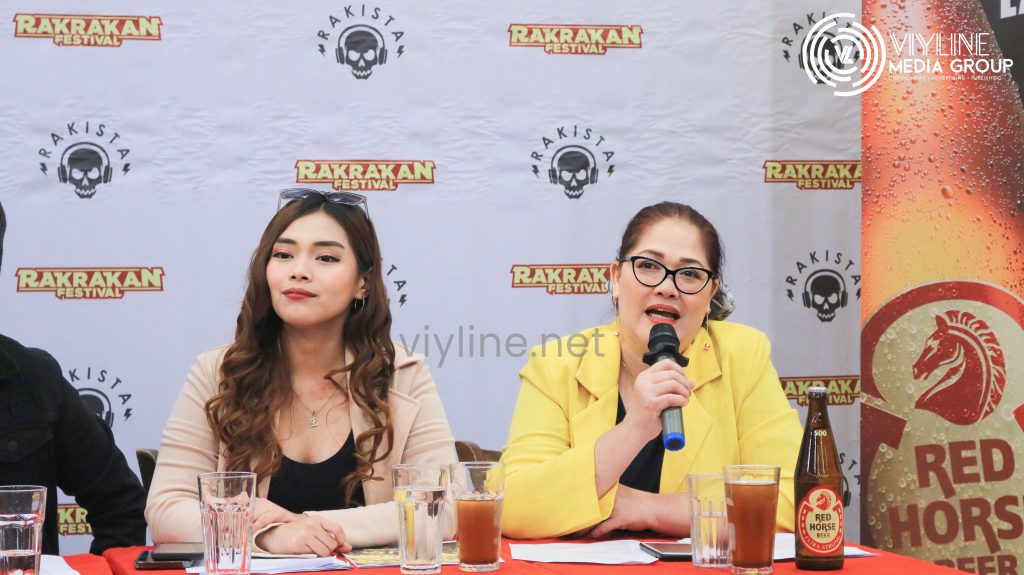 See You There!
The clock is ticking, and if you still haven't gotten your tickets, you're probably missing out on the biggest event of the year!
Experience a night of music, fun, and camaraderie brought to you only by Rakrakan Festival. You can get your tickets via SM Tickets with the following price range:
Gen-Ad
1 Day Pass – PHP799
2 Day Pass – PHP1,199
VIP
1 Day Pass – PHP1,199
2 Day Pass – PHP1,999
S-VIP
2 Day Pass – PHP2,999
See you there!