The University of the Philippines Fair, a.k.a UP Fair, is back with another week-long night of fun, music, and advocacy this 2023.
Mark your calendars as UP Fair Wednesday's "Kalye Tunes" is about to give you the best Hip Hop and OPM night experience.
UP Fair 2023
With the theme "Kaisa Ka sa Musika," the annual advocacy-led UP Fair is back on-ground from February 14-18, 2023. Different rides, booths, and bazaars await, including the much-awaited advocacy concerts arranged by various UP Diliman Organizations in the UP Diliman Sunken Garden.
Kalye Tunes: UP Fair Wednesday is a night music that gathers the biggest and fast-rising names in the Hip Hop and OPM industry, particularly the ones people rave on social media.
The said event is organized by EMC² Fraternity, an internal fraternity group in UP College of Engineering that aims to utilize the event to campaign and advocate the needs of the masses.
While continuing the culture to promote and expose the underappreciated hip-hop music genre in the Philippines, Kalye Tunes also continues its advocacy for the urban poor, campaigning for proper housing, humane jobs, fair wage, and free education for all.
You're Invited!
This year, Kalye Tunes: UP Fair Wednesday proudly presents the most awaited lineup of local artists, namely:
Loonie
Al James
Kiyo
Because
Alisson Shore
Abra
Calix
Ron Henley
Apekz
JP Bacallan
PriceTagg
Kennedy
Jon Bonifacio
Pik Nik
Kartell'Em
MoroBeats
Zae
Shnti
Yorko and Ruiijikun
Waiian
Gin
Pau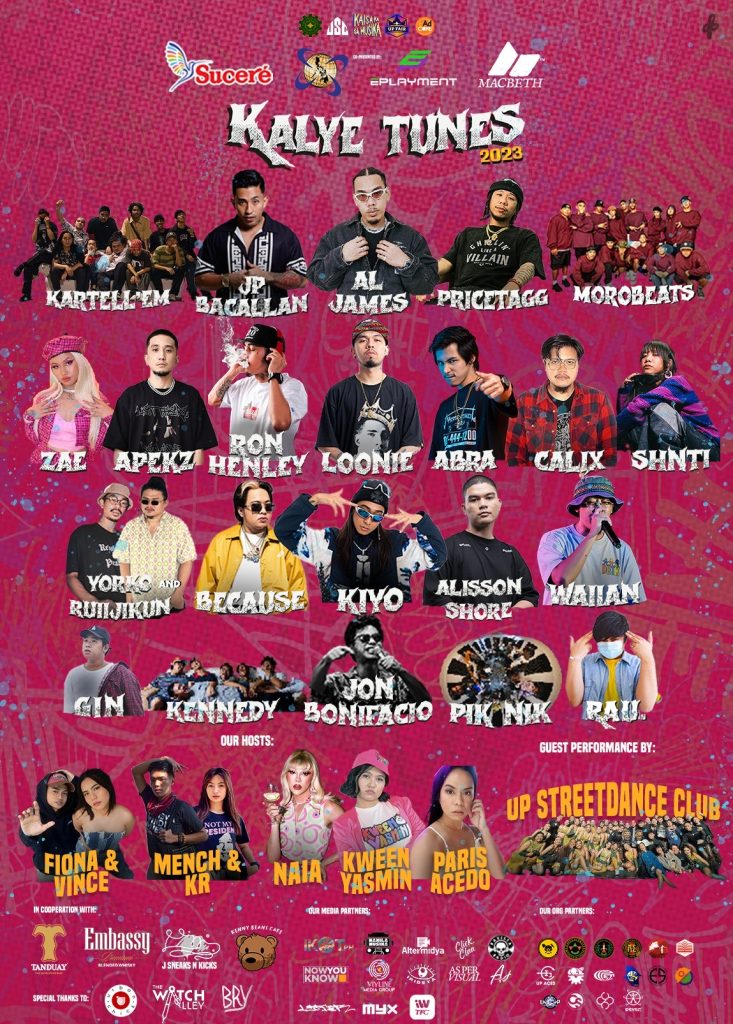 Kalye Tunes will take place on February 15, 2023, at the UP Diliman Sunken Garden Concert Grounds.
On-ground tickets will be available on the day of the event. The prices range from P200 for UP concertgoers and P300 and non-UP concertgoers.
Don't forget to follow Kalye Tunes: UP Fair Wednesday's official Facebook page and other social media pages so you won't miss any announcements and updates.
See you there, UP Fairnation!
VIYLine Media Group (VMG) is the official media partner of Kalye Tunes: UP Fair Wednesday