Team Payaman Fair is just around the corner, and one thing to spice up this huge social media influencer event of the year is the first look at Junnie Boy and Boss Keng's new business venture, "Burgeran."
The Team Payaman content creators have been working behind the scenes for the grand launch of their new baby, which will also have its first pop-up store at TP Fair this coming March 8-12, 2023, at SM Megamall Megatrade Halls 1, 2, and 3.
Burgeran
Real-life friends and brothers-in-law Boss Keng and Junnie Boy Velasquez recently signed a partnership contract with the newest food business in town, Burgeran.
In a Facebook post, Burgeran announced the new faces of its brand and welcomed them to its growing family.
"Welcome to the Family, Junnieboy and Boss Keng of Team Payaman! BURGERAN with Junnie Boy & Boss Keng of Team Payaman? GUSTO NATIN' YAN! Welcome to Burgeran fam, mga kuys! MASAYAAAAA 'TO!"
Meanwhile, Burgeran's owner, Zandra Faye, also welcomed the official brand ambassadors and franchisees of her newly-opened business.
"It's official! @junniedad & @bosskengkeng will be the face of @burgeran.ph Negosyo para sa lahat ang goal namin dito, kaya super excited na kami ipatikim to sa inyo! #BoyMeronAkongBurger #GustoKoYan #burgeran #junnieboy #bosskeng #teampayaman" she wrote.
The said business follows the values, branding, and vibe of Boss Keng and Junnie Boy, adapting their tagline with the phrase #BoyMeronAkongBurger, which will surely captivate their future customers' hearts and preferences.
In an exclusive interview with VIYLine Media Group, Boss Keng and Junnie Boy teased their supporters with their upcoming business.
Boss Keng: "So doon [sa TP Fair] makikita nila yung Burgeran, pinaka-excited kami ni Junnie Boy!"
Junnie Boy: "[Abangan n'yo] yung burgeran namin ni Boss Keng, kasi mayroon nga kami tinayo ni Boss Keng na burgeran." 
Additionally, business owner Junnie Boy Velasquez likewise announced that their Imus Branch, in front of Woodlane Imus Cavite will open its doors to the public real soon!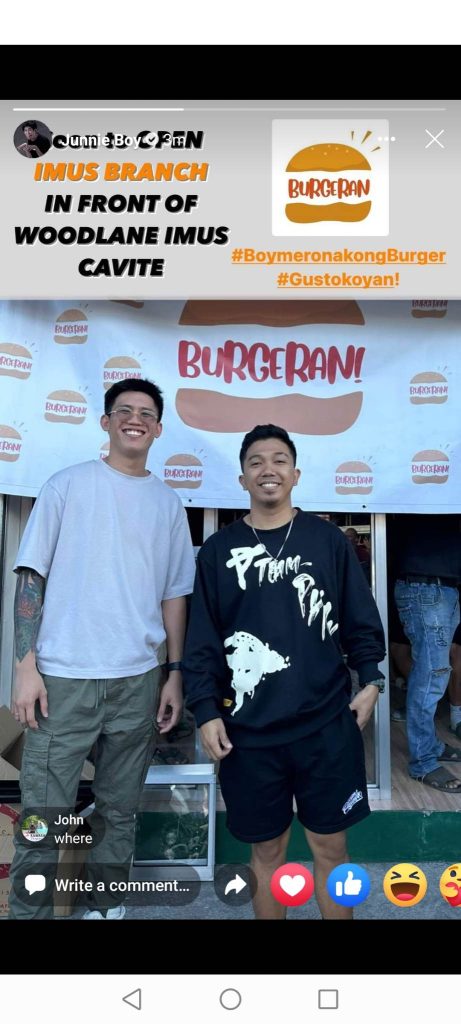 First Bazaar
We're sure you're excited to find out where to get your first bite of Burgeran's snack variation. Save the date from March 8 to 12, as Boss Keng and Junnie Boy's food business will serve nothing but yummy tummy treats at Team Payaman Fair in SM Megamall Megatrade Halls 1-3.
Get your tummies, wallets, and tickets ready, and see why Burgeran will be your next go-to snack store while shopping around the established businesses of other Team Payaman members.
For more information, follow Burgeran's official Facebook and Instagram pages.