Get-togethers? Reunions? Eating out? Wagyuniku by Pat and Keng got you covered! With varieties of food choices, you'll surely drool over what's in store for you.
This October, don't miss out on Wagyuniku BF Aguirre's latest promos and deals to satisfy your tummies without breaking the bank!
Spend the rest of the month with the best Japanese-Korean BBQ grill in town, as Wagyuniku by Pat and Keng brings you October deals you wouldn't want to miss.
5 + 1 Shifudo Combo Promo
Make it an October to remember with Wagyuniku by Pat and Keng's 5 + 1 Shifudo Combo Promo! Bring six peeps, and pay only for the price of five!
For every group of six persons, the sixth person can dine in all for FREE if you avail of Wagyuniku's best-selling Shifudo Combo!
The Shifudo Combo worth PHP599/head is a great way to experience the rich culinary culture of The Land of the Rising Sun. The Shifudo Combo has a variety of meat, seafood, and side dishes to choose from.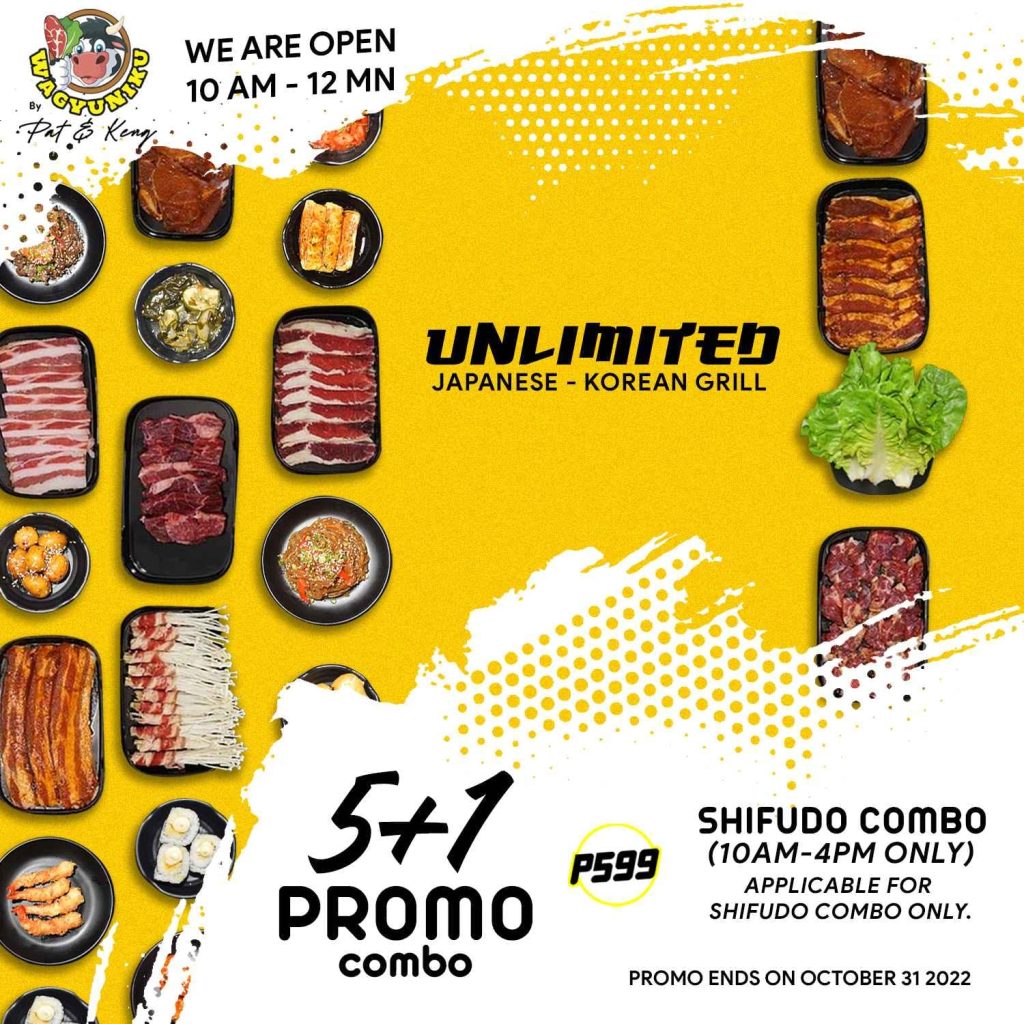 Take note of the following terms and conditions:
The promo applies to Shifudo Combo only.
A group must have five (5) paying adults to avail of the promo.
Promo is valid from 10 AM to 4 PM, daily from October 16 – 31, 2022
Beat the Heat!
Quench your thirst with Wagyuniku by Pat and Keng's in-house refreshments, and see why it deserves the hype! Include these refreshments in your October Wagyuniku experience and get 20% off!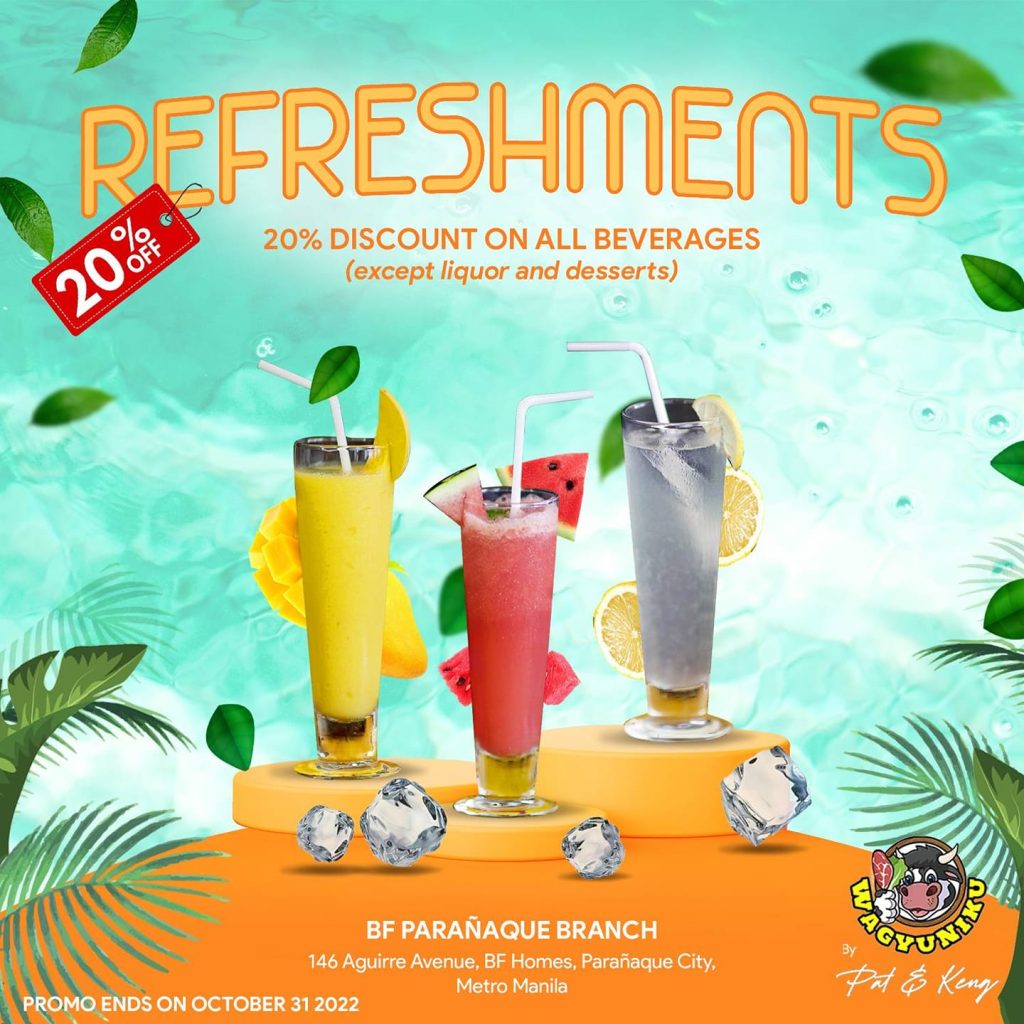 Pair your Shifudo or Premium Combo Meal with refreshments such as Iced Tea and Fruit Shakes to give you the best Wagyuniku by Pat and Keng experience! Promo is available from October 16-31, so schedule your visit as early as now.
Trick or Treat?
Of course, Wagyuniku by Pat and Keng has a special treat for children under 3 feet tall! And nope, this is not a trick!
Kids under 3 ft in height are entitled to a FREE Wagyuniku meal, while kids who stand 3 – 4 feet tall are entitled to a 50% discount.
And since Wagyuniku BF Aguirre is a kid-friendly store, they will not collect corkage fees for any kiddie meal brought inside the branch. Just inform the store crew beforehand, and you're good to go!
And the good news is the promo is all-year round, so dine and bond with your kids at Wagyuniku by Pat and Keng now!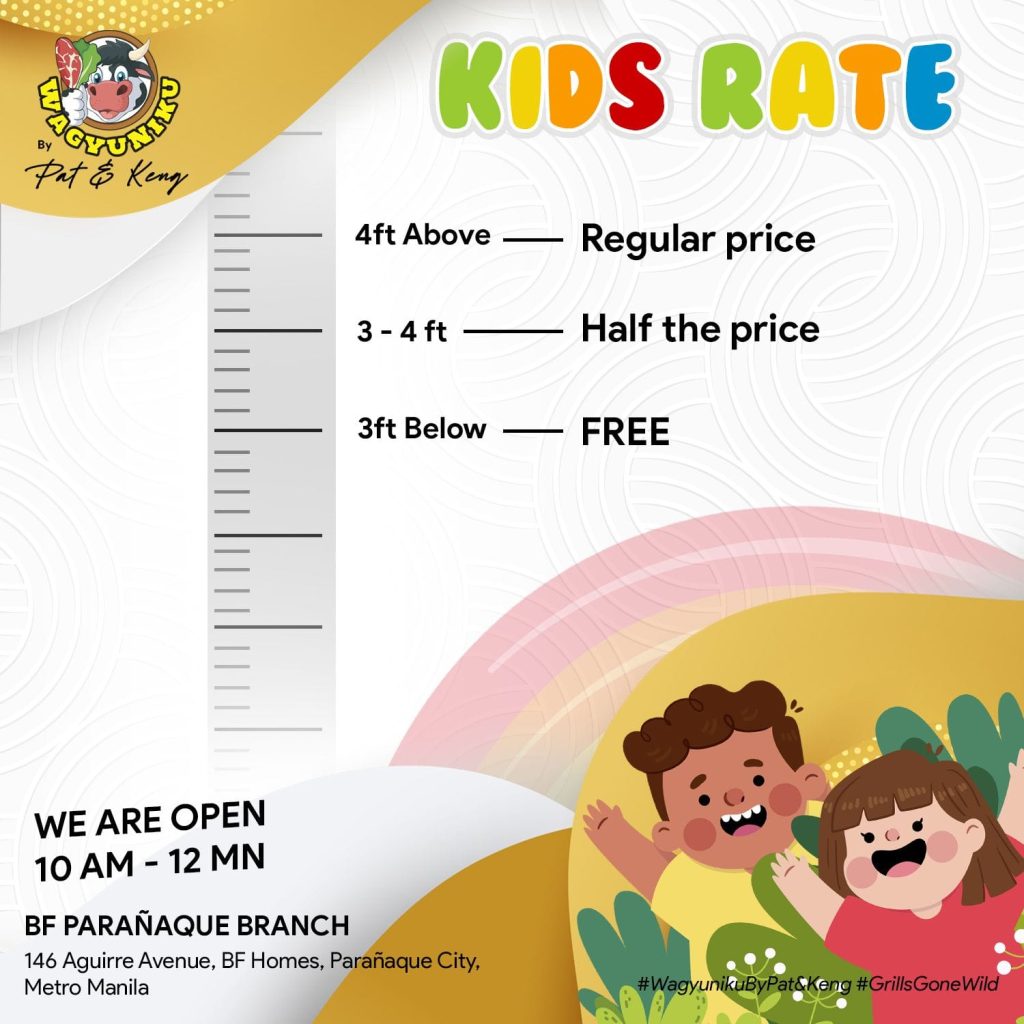 Dine With Us!
We bet you're drooling right now so take this is as your sign to eat out and know why Wagyuniku is the best Japanese-Korean BBQ in town!
Indeed, #GrillsGoneWild! Enjoy your grilling experience with Wagyuniku by Pat and Keng, located at 146 Aguirre Ave. BF Homes, Paranaque City open from 10 AM to 12 MN daily!
For reservations, call 09564352644 and follow Wagyuniku by Pat and Keng's official Facebook page to know more.