More and more social media influencers are trying out VIYLine Skincare products. Want to know why Viy Cortez's skincare line is recently making a buzz on social media?
Just recently, some of our favorite online personalities have expressed their love for VIYLine Skincare. It is after they received a gift box full of skincare products from the 26-year-old VIYLine CEO.
VIYLine Skincare: Influencers Approved
Former Pinoy Big Brother (PBB) housemate Tin Hammond is one of the lucky ladies who received a gift from Viy Cortez.
In an Instagram post, the 22–year-old former volleyball varsity player excitedly shared some of the skincare items she got from Viy, which includes the VIYLine Skincare Diamond Glow Kit.
Tin Hammond even gave her followers a step-by-step tutorial on using the kit's soap, toner, and creams. She also tried the brand's Underarm Whitening Kit, which includes an underarm whitening mist, cream, and scrub.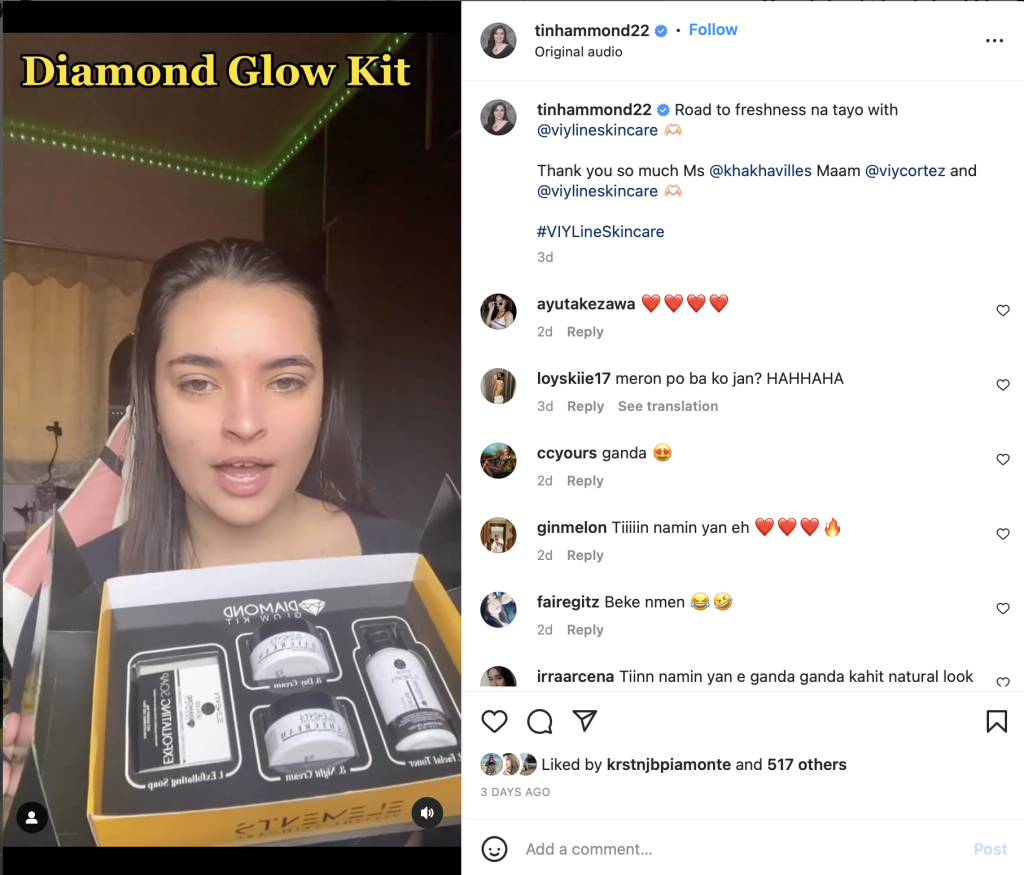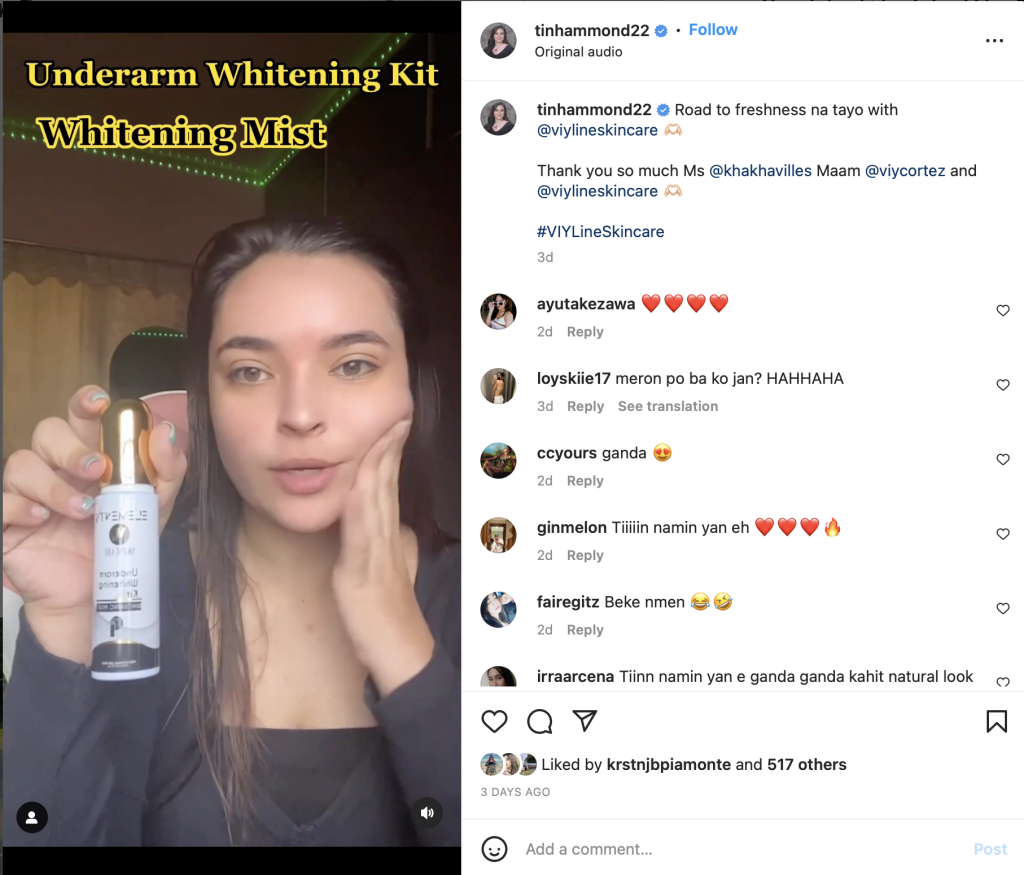 Hammond's fellow housemate Criza Taa also gave a special shoutout to Viy Cortez after receiving her gift box.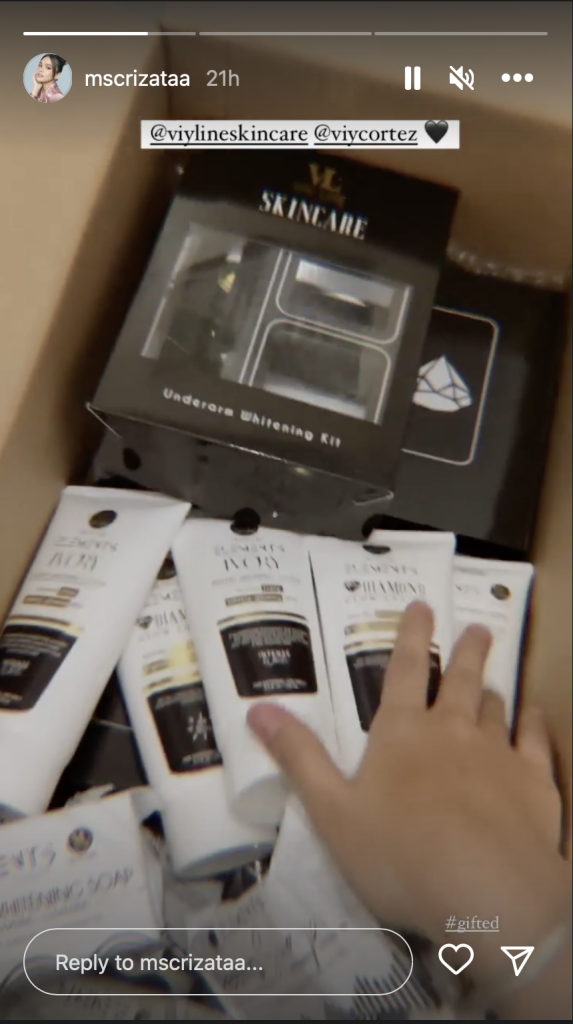 Celebrity daughter Inah De Belen Estrada also shared an unboxing video of her gifts from VIYLine Skincare.
"Ready to glow! Love, love, love @viylineskincare! Thank you, @viycortez!" the daughter of Janice De Belen and John Estrada wrote on Instagram.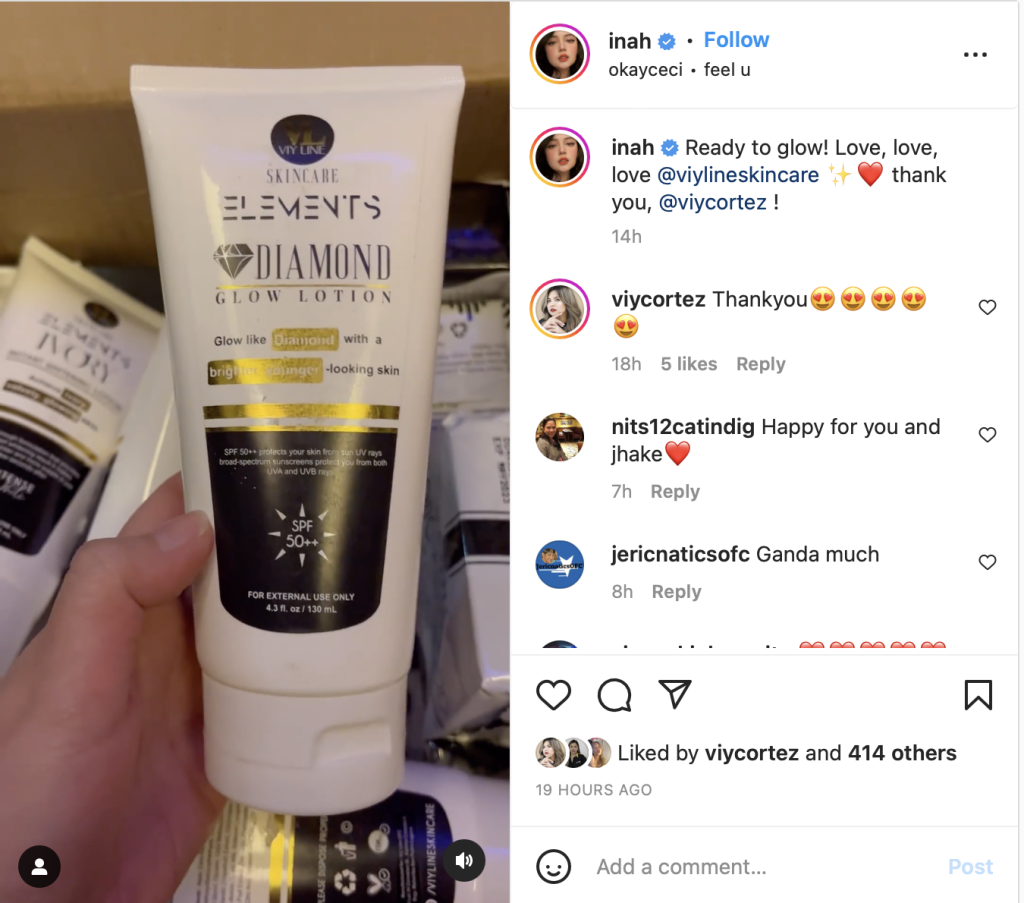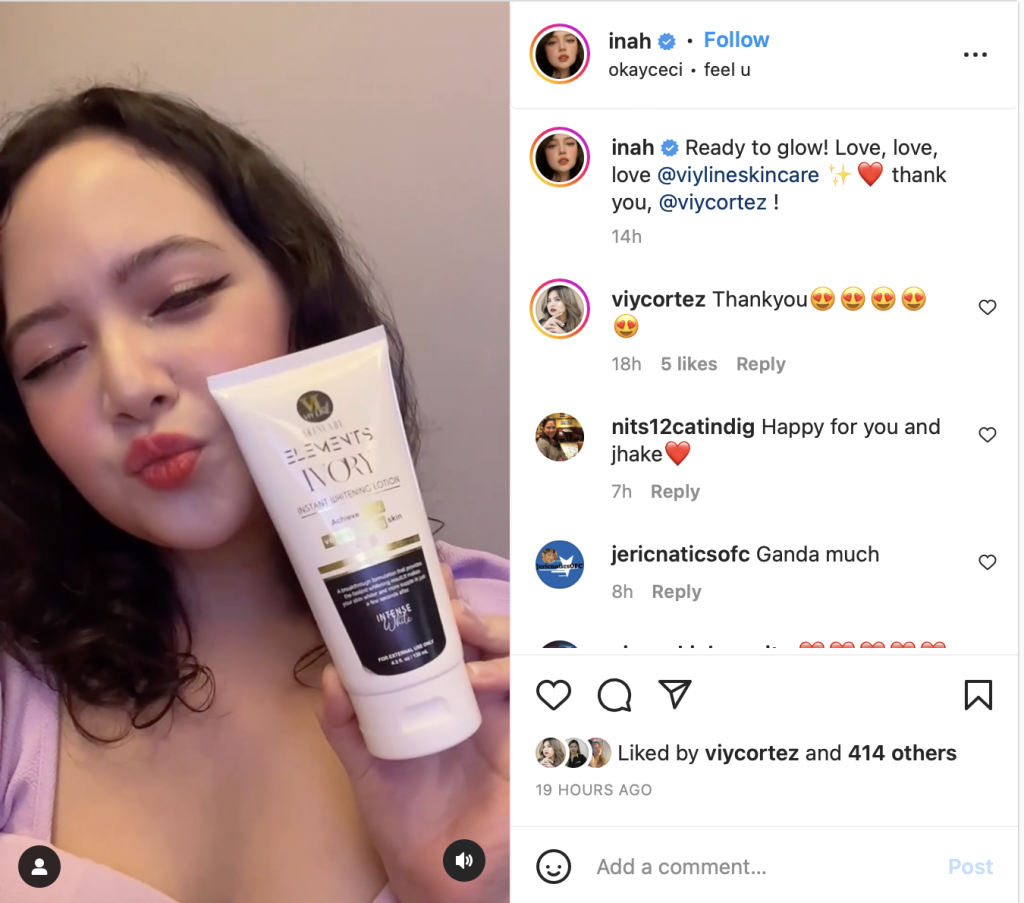 Meanwhile, vlogger and gamer Peachy Santos, a.k.a Peachy Twice, expressed her gratitude to Viy Cortez for sending tons of skincare goodies.
Peachy declared that she is excited to try VIYLine Skincare lotions to help improve her skin tone.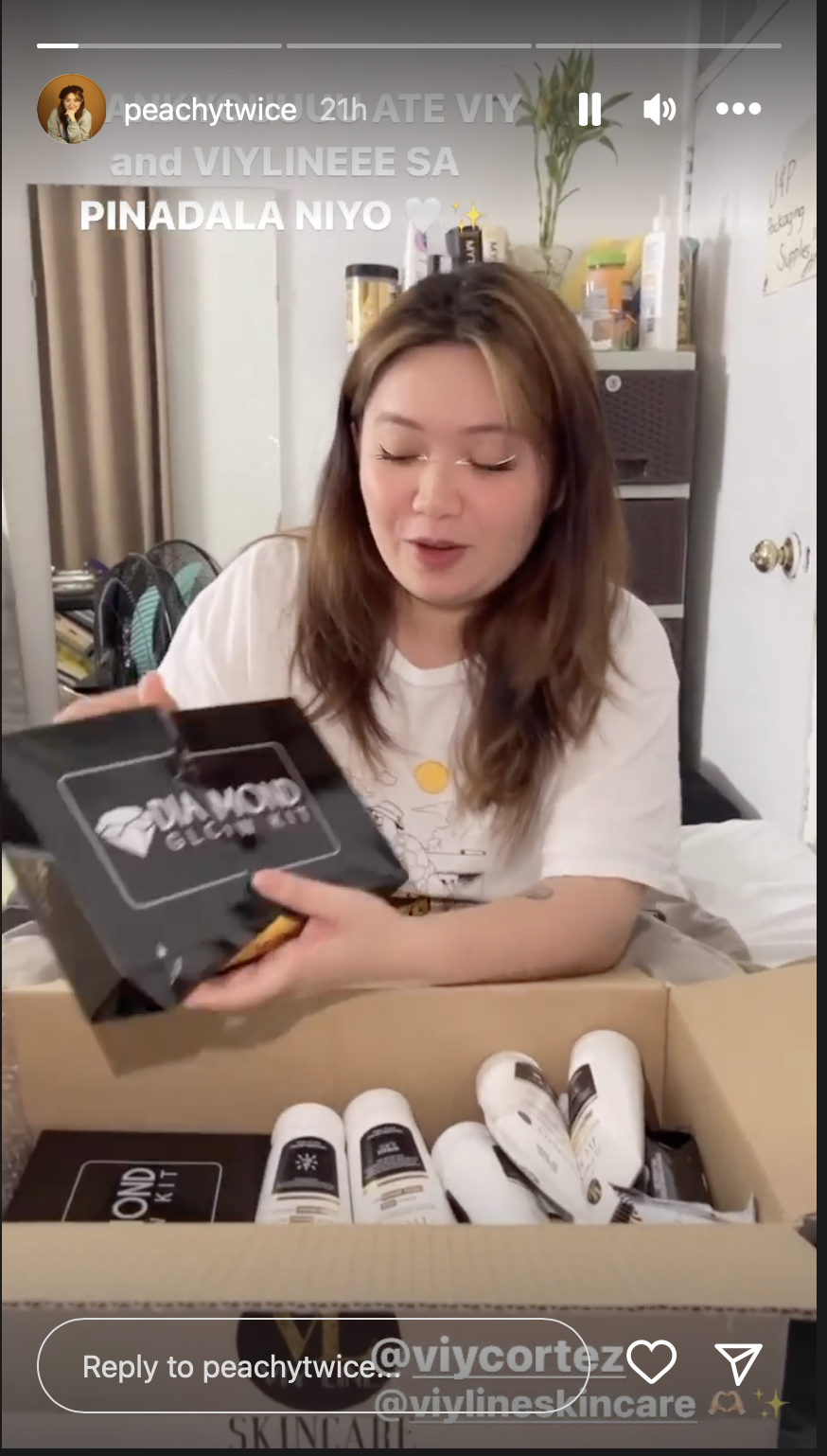 Former PBB Lou Yanong (Viy's high school buddy) and Filipina-Egyptian influencer Nadia Sultan likewise flexed their box full of VIYLine Skincare items on their Instagram story posts.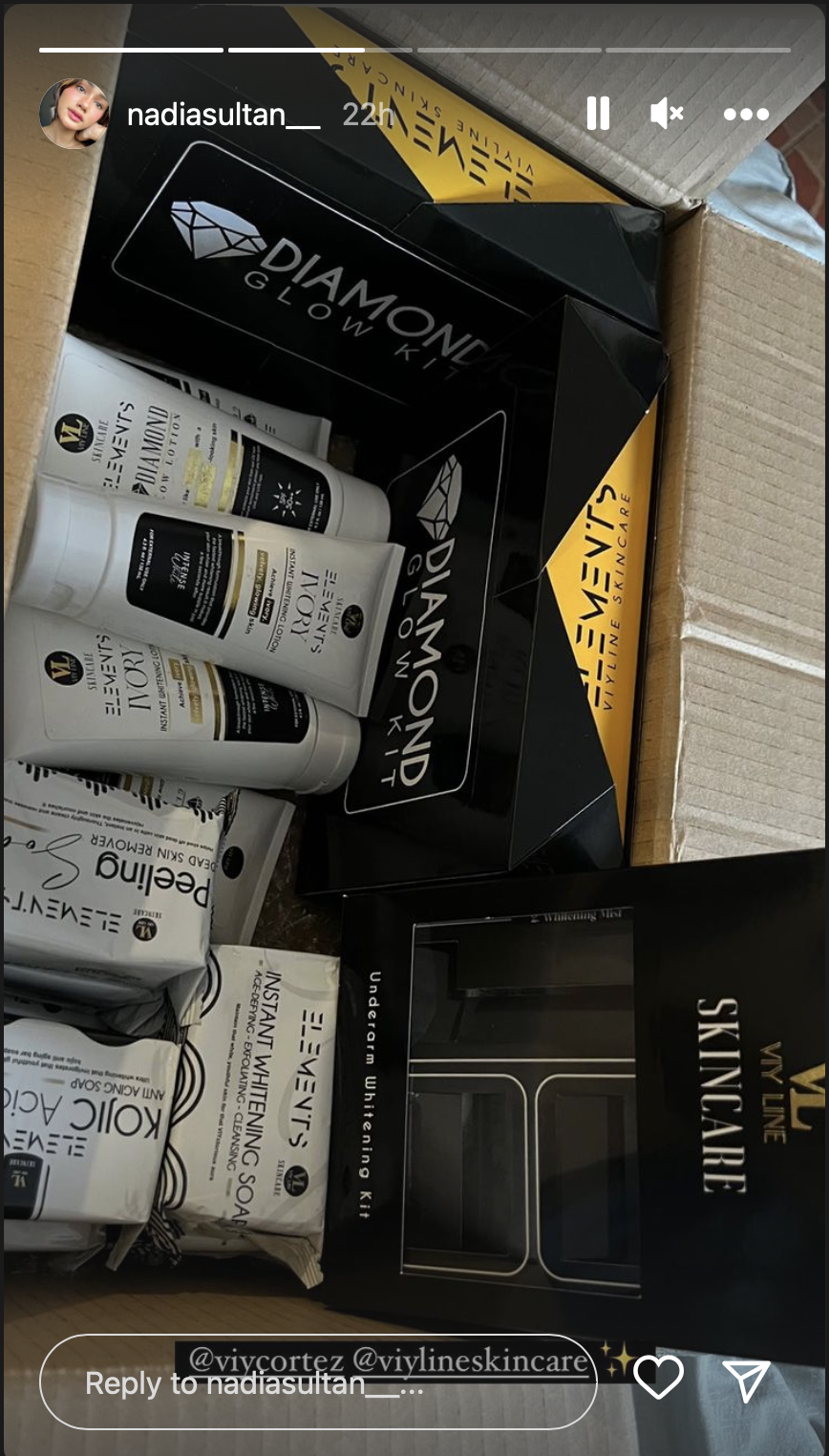 Why switch to VIYLine Skincare?
We're sure you're getting curious about why these social media influencers are trying out VIYLine Skincare. Take this as a sign to start your skincare journey with Viy Cortez and Team Payaman's most-trusted skincare brand.
Here are some of the reasons why VIYLine Skincare products deserve a spot on our skincare regimen:
Affordable
Who says having healthy and glowing skin should break the bank? Viy Cortez ensured that all the items under her skincare line fit everybody's budget. So whether you are a student, working girl, stay-at-home mom, or a social butterfly, there is a VIYLine Skincare item that would surely suit your skincare needs and budget.
Check out the complete price list below:
Kojic Acid Soap – Php 120
Peeling Soap – Php 140
Instant Whitening Soap – Php 180
Ivory Instant White Lotion – Php 390
Diamond Glow Lotion – Php 390
Underarm Whitening Kit – Php 499
Teen Luminous Acne Solution – Php 598
Diamond Glow Kit – Php 599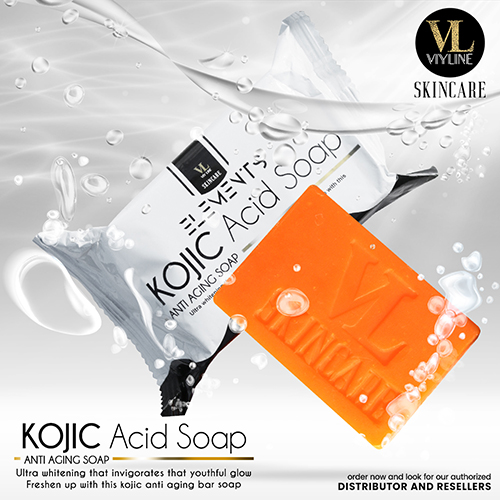 Safe and Effective
Since the launch of VIYLine Skincare in July 2021, many users have already testified how safe and effective Viy Cortez's products are.
One of them is Team Payaman's very own Vien Iligan-Velasquez, who proudly shared how the Diamond Glow Kit helped her say goodbye to her acne and achieve naturally glowing skin.
Many have also raved about how VIYLine Skincare solved their kili-kili problems using the Underarm Whitening Kit.
"Actually sa lahat ng natry ko, ito yung effective. Imagine nagpa-laser pa ako dati [worth] PHP25,000 for 10 sessions pero ito ambilis nung pag-puti," a customer said.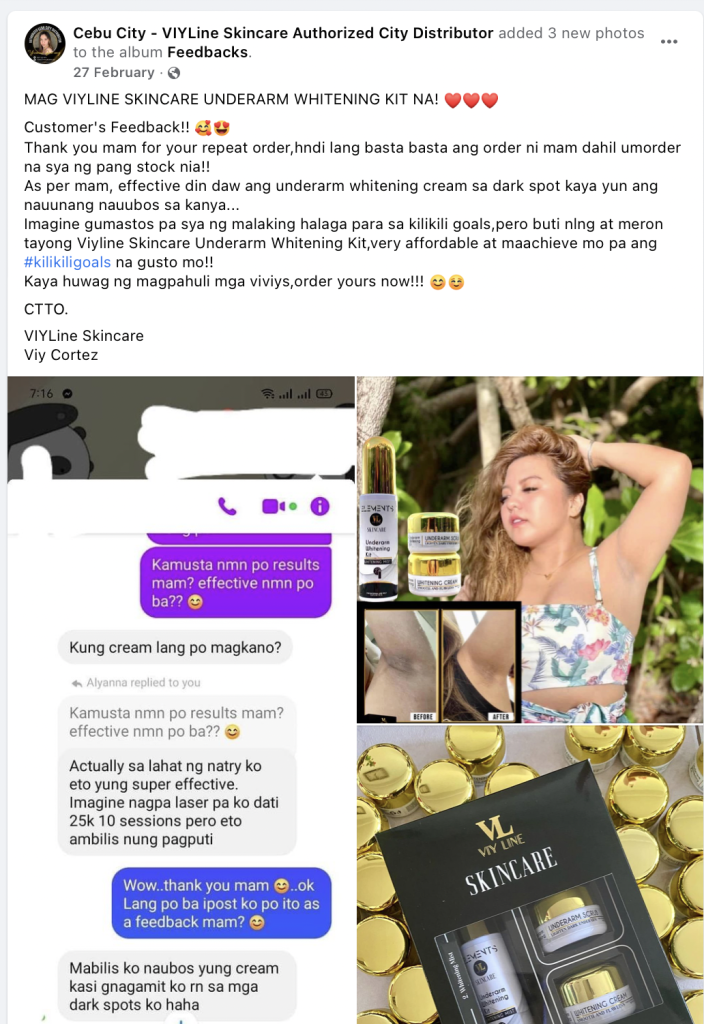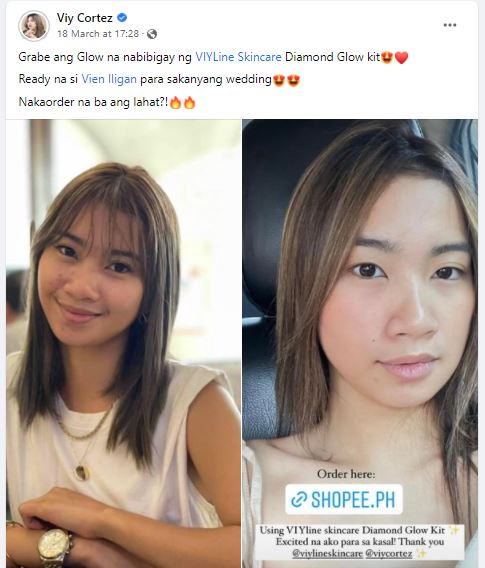 Supports Small Business
Another thing to love about VIYLine Skincare is that they support small businesses by offering affordable distributorship and reseller packages. Interested resellers can start their own business for as low as Php 4,000.
Resellers and distributors also enjoy up to 50% discount on products and other perks. Top sales performers also receive rewards to give back for all their hard work and efforts.
Try VIYLine Skincare now!
Don't miss out this chance to start your skincare journey at a very affordable price. Achieve that healthy glowing skin like your favorite social media influencer.
VIYLine Skincare products are available to authorized distributors and resellers in your area; check out their items on Shopee, Lazada, and TikTok.
You may also purchase VIYLine Skincare by visiting VIYLine's main office and showroom at Blk 20 Lot 6 San Agustin Rd. San Agustin Village Brgy. San Francisco Biñan City, Laguna, from 8 AM to 5 PM (Mondays to Saturdays).