It's raining deals and discounts this 9.9 as we welcome the BER-months with a bang! Luckily, VIYLine Cosmetics and VIYLine Skincare will once again be available to everyone at their lowest price!
Get your virtual shopping carts ready and prepare for the biggest "budol" brought to you by VIYLine's 9.9 Septemberific Sale Sale happening this September 9!
Before you proceed shopping, VIYLine Media Group (VMG) is once again here to provide you with shopping recommendations that will surely complete your makeup and skincare collection! Are you ready to see our exclusive Kapitbahay Shopping Checklist?
Kapitbahay Must-Haves #1: VIYLine Skincare
It may rain badly, but we are flooded with deals and discounts with VIYLine Skincare! Viy Cortez's skincare products are available from authorized retailers in your area!
Reward yourself with affordable skincare products because you deserve nothing but the best! Get soft, smooth, glowing, and healthy skin without breaking the bank!
VIYLine Skincare Authorized Resellers and Distributors bring you up to 15% off on all best-selling products.
Add to cart now as your dream self-care journey is made affordable this 9.9!
Diamond Glow Kit Set – Php 509.15
DG Kit Toner – Php 169.15
Exfoliating Soap – Php 126.65
Day Cream – Php 126.65
Night Cream – Php 126.65
Underarm Whitening Kit – Php 449
Whitening Mist – Php 254.15
Underarm Cream – Php 148.75
Underarm Scrub – Php 127.50
Diamond Glow Lotion – Php 331.50
Ivory Instant White Lotion – Php 331.50
Instant White Soap – Php 153.00
Peeling Soap – Php 119.00
Kojic Soap – Php 102.00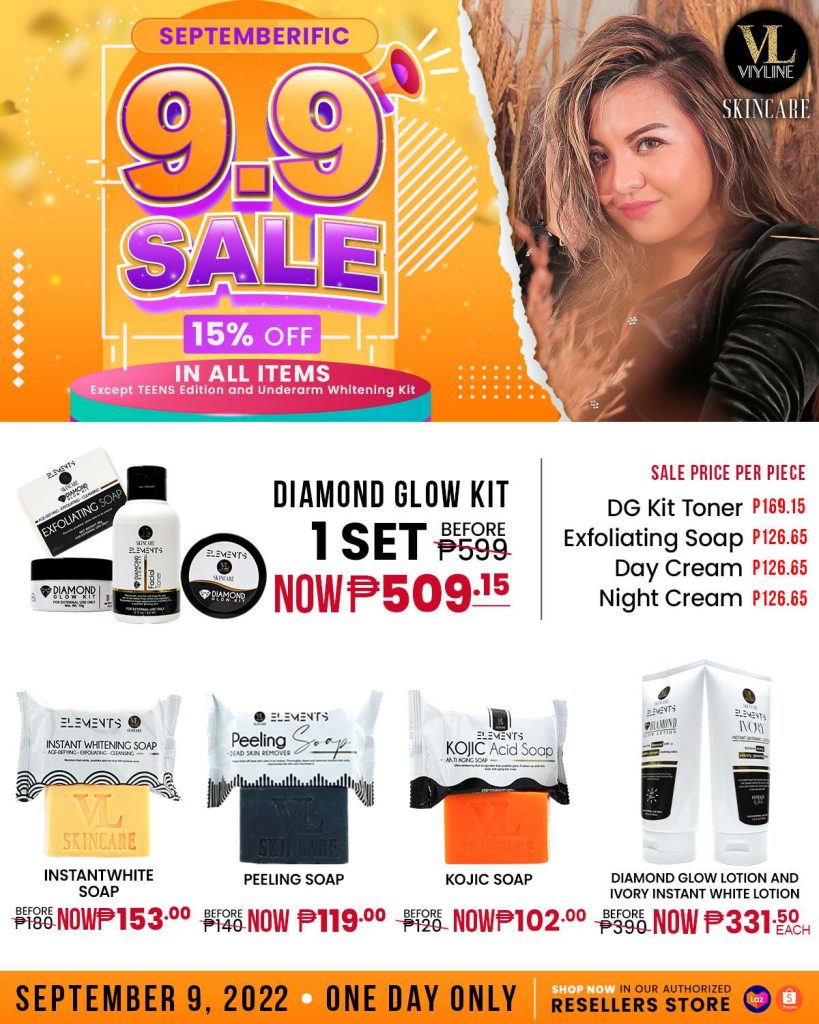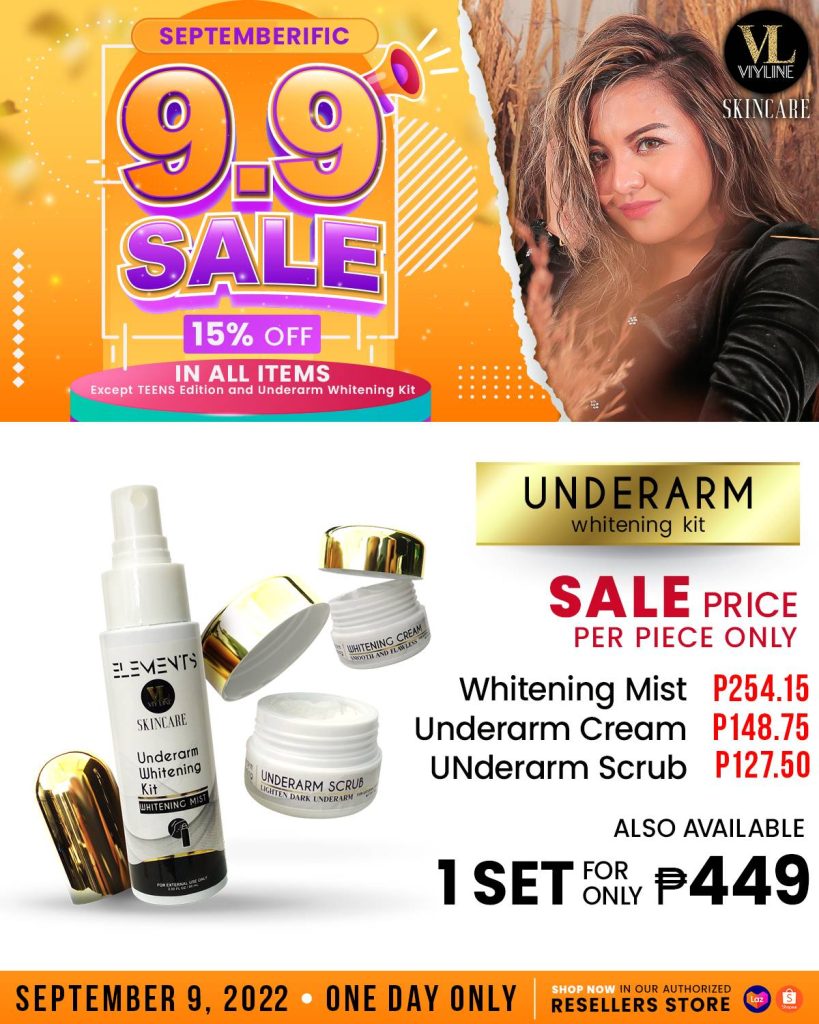 Kapitbahay Must-Haves #2: VIYLine Cosmetics
Face to face? Work from home no more? This is the perfect time to stock up on your makeup must-haves and take advantage of this month's VIYLine Cosmetics deals.
Don't miss this chance to get your hands on the best-selling items of Viy Cortez, starting from the lip, eye, cheeks, and body products, as you can surely afford these must-haves during the 9.9 Septemberific Sale!
Make sure to add to the cart the following products, as they will surely go out of hand!
NEW! Lip Potion – Php 199
Team Payaman HD Matte Tints – Php 69
Cong
Viy
Junnie
Vien
Keng
Pat
Yow
Aqua Cream by VIYLine Cosmetics – Php 199
Athena (new shade!)
Thalia (new shade!)
Awra
Baninay
Michelle Dy
Sachzna
Zendee
Angel by VIYLine Cosmetics
Winged Style Stamp – Php 249
Eyebrow Styling Soap – Php 199
Tinted Lip Gloss – Php 199
3-in-1 Multi-Use Cream – Php 199
Stained Glossy Balm – Php 149
Maroon
Plum
Red
Pink – Php 99
Cong Baka Naman Lip Dip – Php 199
3-in-1 Multipot – Php 199
Other Products:
VIYLine Duo Eyeliner – Php 199
VIYLine Scent Eau De Parfum – Php 299
Team Payamansion Eau De Parfum – Php 1,099
Team Payamansion HD Matte Tints – Php 499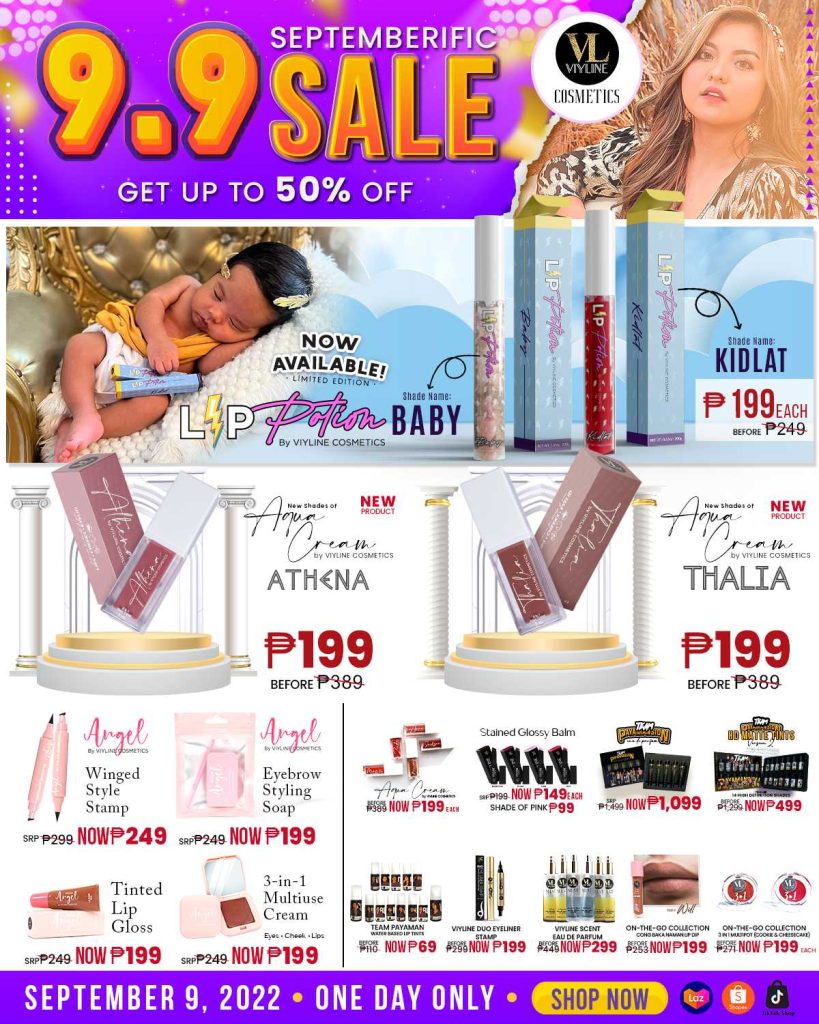 9.9 Budol, Here We Go!
If you're still reading this, then take it as a sign to add those items to your cart and check out your favorite VIYLine products when the clock strikes midnight.
These deals are only available for a limited time, so prepare your carts (and wallets) and hoard your VIYLine Holy Grail items!
Head on to the official Shopee, Lazada, at Tik Tok Shop accounts of VIYLine Cosmetics and message the authorized resellers at distributors in your area. Don't forget to follow VIYLine Cosmetics at VIYLine Skincare's official Facebook pages so you won't miss any announcements.