After giving away exciting prizes during her birthday sale, Viy Cortez is back with another sulit deal you should not miss.
Up to 50% OFF and exciting freebies await when you purchase any time during VIYLine's 8.8 VIYda Deals Sale today, August 8, 2023.
One-day Sale
Now is finally the chance to upgrade your beauty routine and stock up on your favorite VIYLine products at a very affordable price.
You have until 11:59 PM to check out your favorite items, plus get a free random Team Payaman Fair collectibles (button pins).
Check out all the major discounts you can enjoy when you avail today!
VIYLine Skincare (Up to 16% off)
Underarm Whitening Kit – Php 377
Teens Luminous Acne Solution – Php 502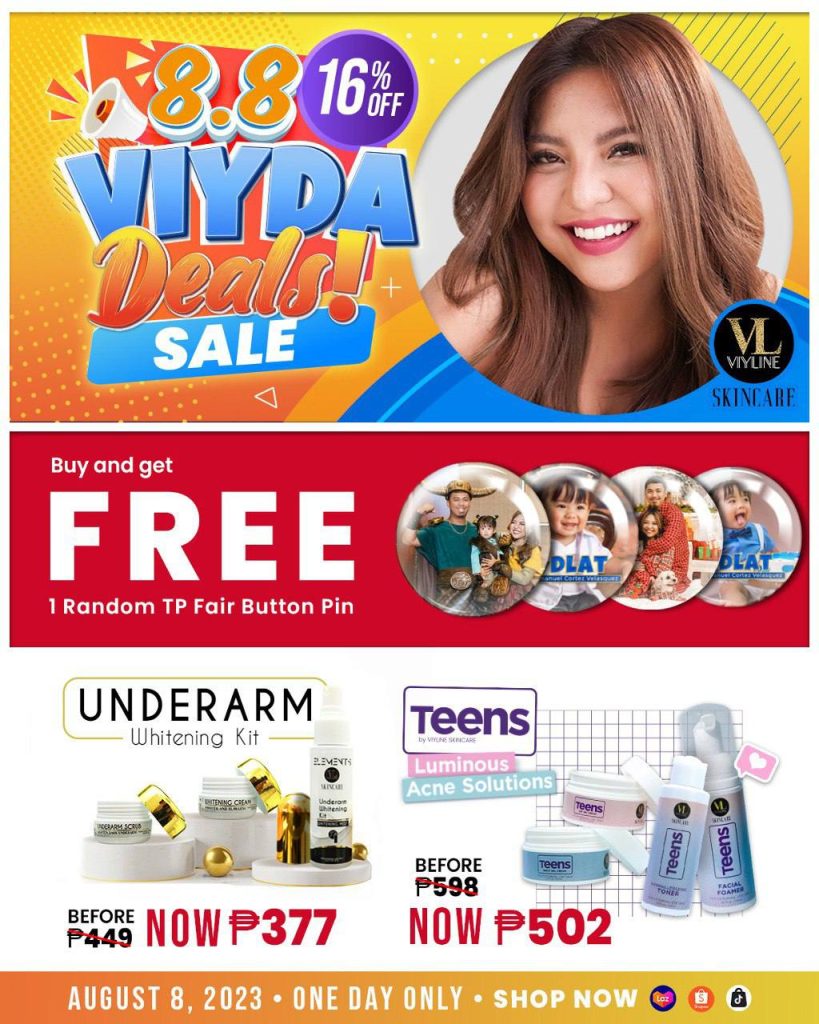 TP Kids (Up to 16% off)
Advent Calendar (24 books per set) – Php 1,259.16
In Toy Bricks Puzzle (128 pcs Mosaic Plug) – Php 163.8
Magkulay Tayo ng Kuwento – Coloring Book Collection – Php 91
Creative Children Link & Learn Puzzle – Php 192.36
Fun With Activity Books Collection – Php 42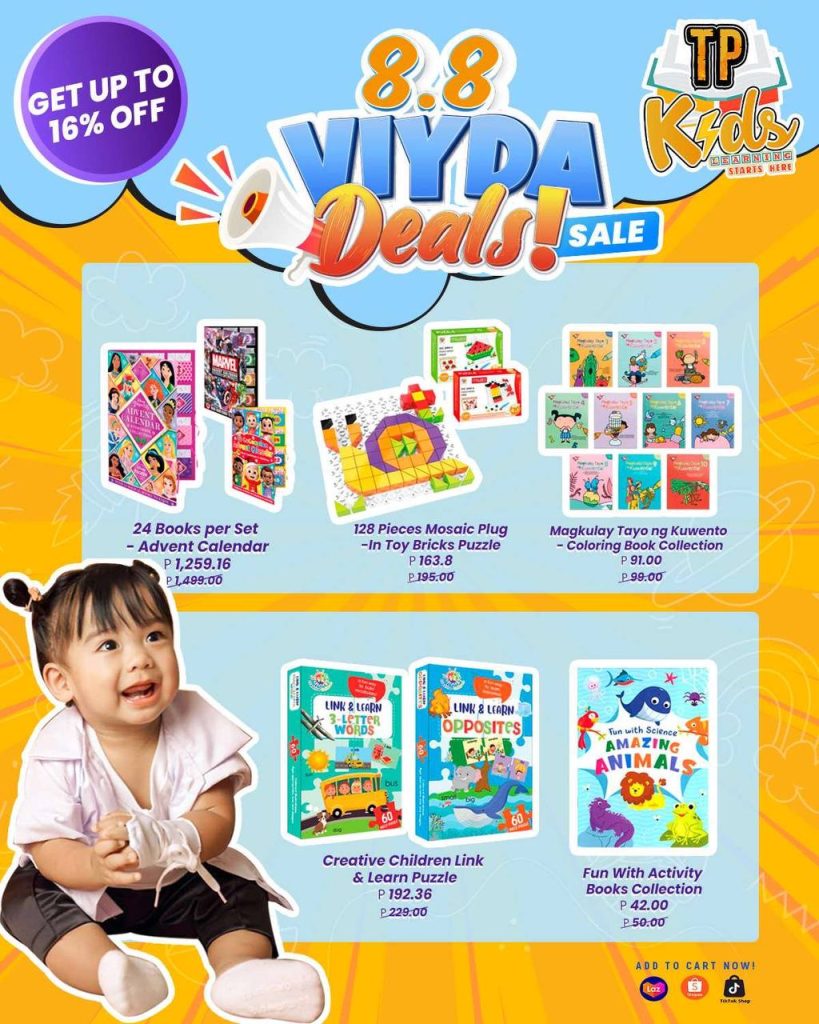 Up to 16% off on all items
VIYLine Cosmetics (Up to 50% off)
Stained Glossy Balm – Php 99
Baby Kidlat Lip Potion – Php 124
Aqua Cream Mini – Php 129
Black Blush – Php 139
Hair Styling Stick – Php 135
Wild Eyeshadow & Highlighter – Php 125
Liquid Contour Wand – Php 159
Liquid Contour Wand Mini – Php 139
Glimmer BB Loose Powder – Php 145
Dewy Glass Finish Face Mist – Php 155
Duo Eyeliner Stamp – Php 245
Glimmer Powder Beam – Php 159
Cleansing Balm – Php 149
Foaming Cleanser – Php 149
Team Payaman Tints – Php 99
Viyline Scents – Php 199
Team Payamansion Eu de Parfum Set – Php 999
But wait, there's more! The best-selling Team Payaman Version 2.0 Water-Based Tints is also on sale! For only Php 99, you get to take home two pieces of your favorite shade! Wow!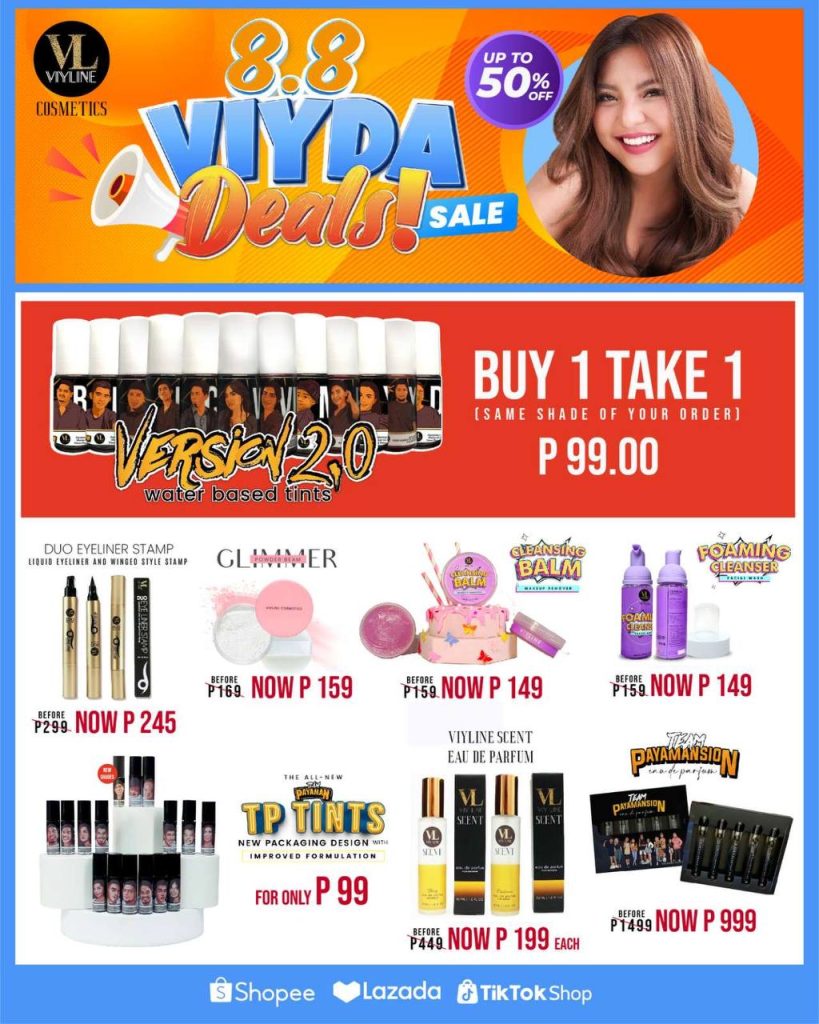 Hurry and get yours now!
All the discounted items mentioned above are available at VIYLine Cosmetics, TP Kids, and Ivy's Feminity's official shopping platforms.
You may also visit VIYLine's Showroom at Block 20 Lot 6 San Agustin Road, San Agustin Village, Brgy. San Francisco, Biñan City, Laguna.
Happy shopping!